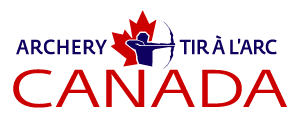 Archery Canada Registrant/Scoring/Ranking Database
Base de données des inscrits, des pointages et des classements de Tir à l'arc Canada
To log on (membership # required).
If you do not have a password (which you should have received from your Province), you can request one by using the "forgot password" feature, then one will be provided,
which you can change. Your Club or Province must have entered your email address, or you will not be able to access the system. Membership status can be verified without logging on.
Pour se connecter au numéro de membre requis.
Si vous n'avez pas de mot de passe (que vous devriez avoir reçu de votre province), vous pouvez en demander un en utilisant la fonction «Mot de passe oublié», puis on vous en fournira un, que vous pouvez modifier. Votre club ou votre province doit avoir entré votre adresse de courriel, sinon vous ne pourrez pas accéder au système. Le statut des membres peut être vérifié sans se connecter.
Tournament/Ranking Results (log on not required)
To view tournament results go to the Competition drop down and choose from the list or use the search feature. Note that results/ranking for 2016 and earlier are only for testing purposes and do not reflect actual ranking or results.
Résultats de tournois / de classement (connexion non requise)
Pour afficher les résultats du tournoi, accédez au menu déroulant intitulé Compétitions et choisissez dans la liste ou utilisez la fonction de recherche. Notez que les résultats et classements de 2016 et antérieurs sont uniquement à des fins de test et ne reflètent pas le classement ou les résultats réels.